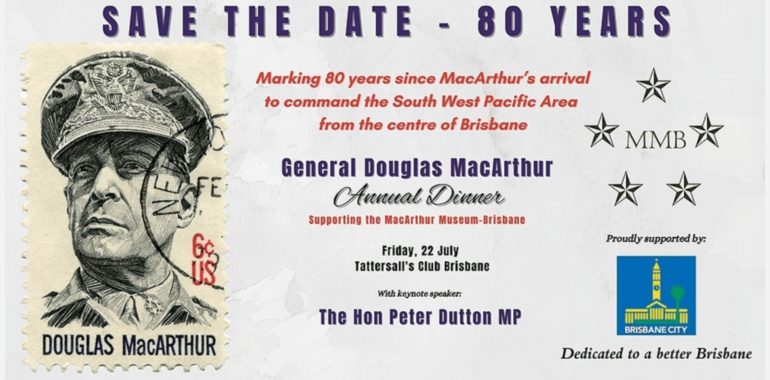 Tattersall's Club - 215 Queen St, Brisbane

22nd July 2022 - 22nd July 2022

6:30 pm - 10:00 pm

$75 - $2200
2022 Annual General Douglas MacArthur Dinner
Marking the 80th Anniversary of General MacArthur's arrival
Join the Board of the General Douglas MacArthur Foundation Brisbane Memorial Foundation to mark the 80th Anniversary of General MacArthur's arrival to command the South West Pacific Area from the centre of Brisbane.
Keynote Speaker: The Hon Peter Dutton MP
Attire: Formal – Dinner Suit / Lounge Suit / Military Miniatures
Date: Friday, 22 July 2022
Time: 6.30pm – 10pm
******
The MacArthur Museum Brisbane looks behind the front lines of World War Two. The museum also focuses on the developing alliance between Australia and the US brought about by the cooperation between the armed forces of both countries during WWII.