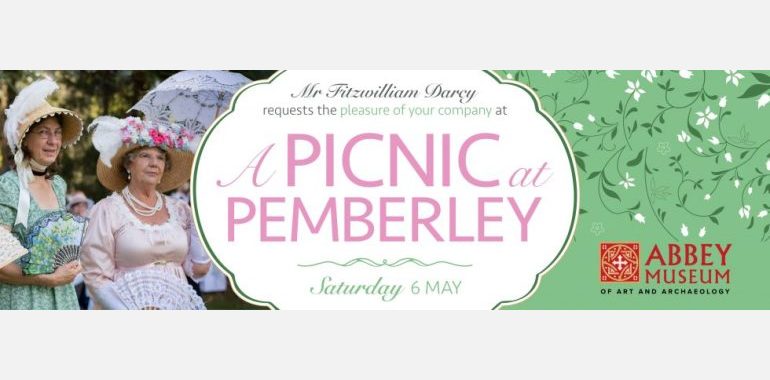 Abbey Museum of Art & Archaeology - 1 - 63 The Abbey Place, Caboolture

06th May 2023 - 06th May 2023

1:00 pm - 4:00 pm
A Picnic at Pemberley
***THIS EVENT IS SOLD OUT***
Mr Fitzwilliam Darcy requests the pleasure of your company at a Picnic at Pemberley.
An afternoon of dancing, delightful company, a delectable afternoon tea, games and other diversions on the manicured lawns of the Abbey Museum of Art & Archaeology.
Regency guests will have the opportunity to:
Enjoy traditional tea cakes and an array of delicious delicacies
Play Regency era games such as the Game of Graces, Pall-Mall and Shuttlecock
Learn the etiquette of the Regency Period
Test your aim with the popular sport of archery
See the beautiful stained glass windows in the Abbey Church
Watch or participate in Regency dancing
Visit the Abbey Museum and marvel at the remarkable scope of its collections, spanning more than 500,000 years of humankind.
Gates open at 12.30pm, with the official proceedings beginning at 1pm.
Afternoon tea is served at 2.15pm. Cool beverages will be available throughout the afternoon, hot beverages to be served with afternoon tea.
Don your best Regency costume and find accessories at the Abbey Shoppe on the day.
Direct queries to events@abbeymuseum.asn.au