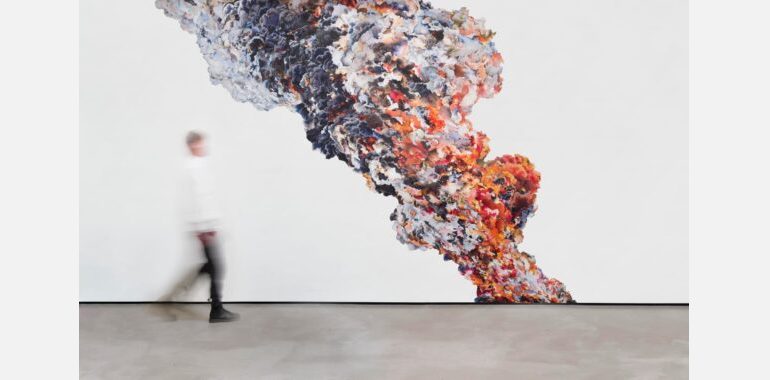 Gallery of Modern Art, Gallery 1.1 (The Fairfax Gallery), Gallery 1.2 & Gallery 1.3 (Eric and Marion Taylor Gallery) - Stanley Place, Cultural Precinct, South Bank, South Brisbane

26th November 2022 - 23rd April 2023

Admission charges apply
Air
At the Gallery of Modern Art.
'Air' showcases immersive and large-scale works by leading international and Australian artists exploring the cultural, ecological and political dimensions of air.
Presented across the entire ground floor of GOMA, the exhibition will be a journey through this invisible, ethereal and vital element, reflecting on awareness of our shared atmosphere as life-giving, potentially dangerous and rapidly warming.
'Air' features Collection favourites including Ron Mueck's monumental human sculpture In bed, Anthony McCall's solid-light installation Crossing and Jonathan Jones' lyrical evocation of wind, breath and bird call, untitled (giran).
Tomás Saraceno's floating work Drift: A cosmic web of thermodynamic rhythms anchors the exhibition with a sequence of 13 large suspended spheres, partly mirrored and partly transparent, with some remaining still and others in subtle vertical motion.
Artists
Jananne Al-Ani / Carlos Amorales / Oliver Beer / Dora Budor / Tacita Dean / Max Dupain / Peter Fischli and David Weiss / d Harding with Hayley Matthew / Mona Hatoum / Nancy Holt / Jonathan Jones with Uncle Stan Grant Snr / Ali Kazim / Anthony McCall / Lee Mingwei / Rachel Mounsey / Ron Mueck / Rei Naito / Albert Namatjira / Jamie North / Charles Page / Katie Paterson / Rosslynd Piggott / Patrick Pound / Lloyd Rees / Tomás Saraceno / Yhonnie Scarce / Wolfgang Sievers / Thu Van Tran / Jemima Wyman
Buy timed tickets in advance to guarantee entry. Last session 4pm daily. Exhibition closes at 5pm.
(Image: Jemima Wyman / Pairrebeener people / Australia / 'Plume 20' (detail) 2022 / Courtesy: Jemima Wyman, Milani Gallery, Brisbane, and Sullivan+Strumpf, Sydney / Photograph: Ed Mumford)