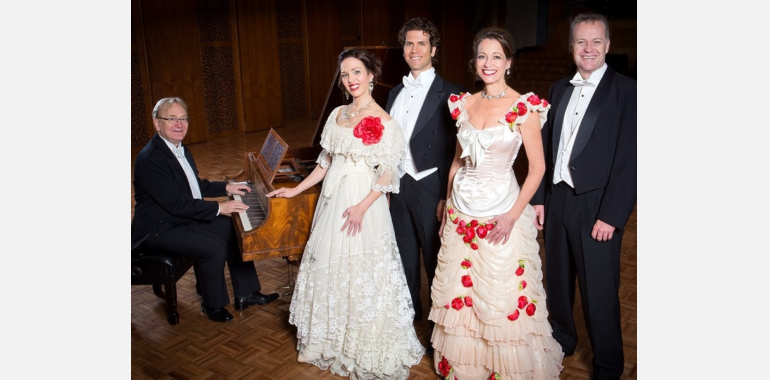 Old Government House - QUT Campus, 2 George St, Brisbane

11th December 2022 - 11th December 2022

4:00 pm - 5:30 pm

$15 - $45
Another Christmas Songbook
Soirees Musicales Quintette
***THIS EVENT IS SOLD OUT***
As the concert title indicates, this program continues our exploration of Christmas music beyond the familiar carol settings. The selection of artsongs, duets, cantatas and lesser known carols is drawn from various parts of Europe and across more than three centuries. The inclusion of some baroque works featuring strings and harpsichord adds another new strand to our programming. Our audiences for the original 'A Christmas Songbook' program of several years ago were delighted by the anthology approach, with its interwoven narrative and connections across diverse places and times. We look forward to sharing this next Christmas musical adventure with you.
Annie Lower soprano
Rachael Griffin soprano
Mattias Lower tenor
Leon Warnock baritone
Peter Roennfeldt piano
THE PROGRAM
Christmas vocal music from Germany and Austria . . .
Buxtehude Carol setting – In dulci jubilo
Telemann Solo cantata – Was gleicht dem Adel
Cornelius Song cycle – Weihnachtslieder, Op 8
Rangger Tyrolean carol – Still, o Himmel
Seasonal instrumental music from Italy . . .
Valentinti Sinfonia Op 1, No 12 'Per il santissimo Natale'
Locatelli Trio Sonata Op 5, No 5 'Pastorale'
Carols and Christmas songs from England . . .
Bax A Christmas Carol
Grainger The Sussex Mummers' Christmas Carol
Bliss A Christmas Carol, Op 45, No 1
Elgar A Christmas Greeting, Op 52
Christmas songs from France . . .
Fauré Noël, Op 43, No 2
Massenet Noël de fleurs
Séverac Chant de Noël
Ganaye Noël, Op 6
arr Gagnon Nouvelle agréable
NOTE: Program details may be subject to change