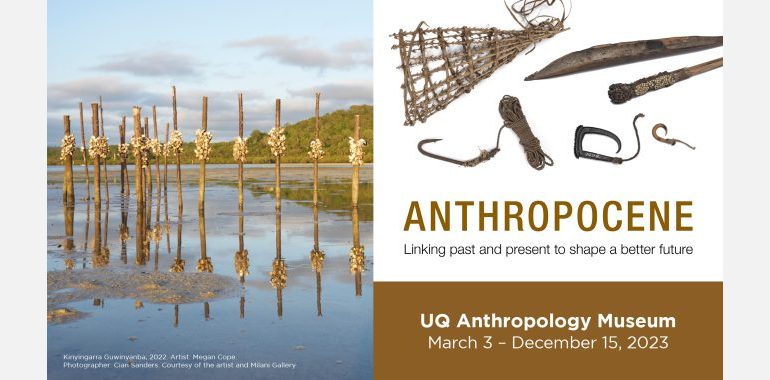 Anthropocene: Linking past and present to shape a better future
A not to be missed exhibition drawing upon the UQ Anthropology Museum collection, archaeological discoveries and interviews in considering deep time history and the transformations over the course of the Anthropocene.
Over hundreds of thousands of years, humans have experimented with an extraordinary array of subsistence practices, economies and socio-political systems. One of the defining features of our species is our ability to access information about these earlier lifeways, and to learn from our past. The deep time history of this country shows First Nations communities prospering in a climatically changeable continent for tens of thousands of years. This occurred through the extremes of the last ice-age and the reshaping of Australia as sea-levels rose by more than one hundred meters.
This exhibition draws upon the UQ Anthropology Museum collection and considers these transformations alongside recent research, to challenge and expand ideas around heritage protection, biodiversity loss and the impacts of climate change on cultural practices.
Presenting collaborative models of academic research informed by traditional cultural knowledge drawn from UQ research and First Nations community-led initiatives. Featuring artworks by: Marshall Bell, Megan Cope, Nora Walytjaka Holland, Kunmanara (Niningka) Lewis, Naata Nungurrayi, Ningura Napurrula, Tjunkaya Tapaya, Barrupu Yunupingu and Ray Troll.