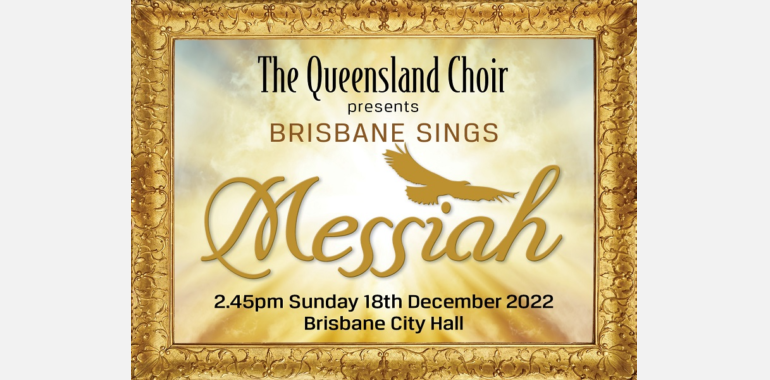 Main Auditorium, Brisbane City Hall - King George Square, Brisbane

18th December 2022 - 18th December 2022

2:45 pm - 5:45 pm

$15 - $60
Brisbane Sings Messiah
Händel's famous oratorio, The Messiah, performed in concert with the Queensland Choir and guest soloists with their friends the Sinfonia of St Andrews for the most famous choruses, in Brisbane's outstanding concert venue, Brisbane City Hall.
Brisbane Sings Messiah is one of the Queensland Choir's signature events and has become a Christmas tradition for many audience members, including people who don't regularly go to concerts.
George Frederic Händel's glorious oratorio will be performed by the Queensland Choir chorus. With its blazing trumpets, thundering tympani and thrilling Hallelujah Chorus, Händel's great choral masterpiece offers a magnificent combination of theatrical effect and spiritual reflection.
Featured soloists: Leanne Kenneally-Warnock, soprano; Hayley Sugars, mezzo soprano; Sebastian Maclaine, tenor; and Leon Warnock, baritone. Accompanied by Sinfonia of St Andrew's. Conducted by Kevin Power.
Program and/or performers subject to change without notice