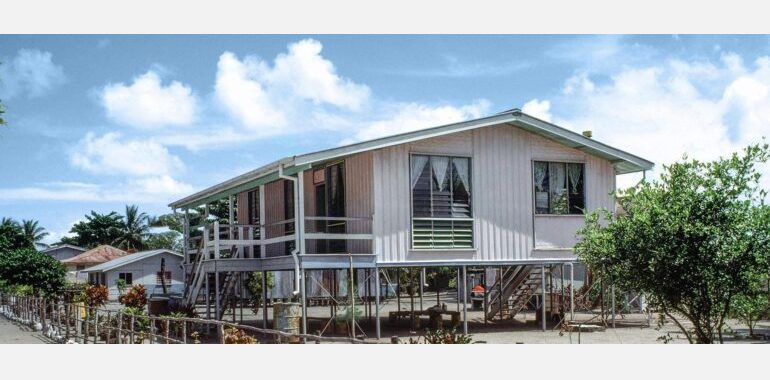 Camps, cottages, and homes: A brief history of Indigenous housing in Queensland
The camps, cottages, and homes featured in this exhibition explore the multitude of ways that Aboriginal and Torres Strait Islander people in Queensland have been housed across the twentieth century.
Between autonomous camps and housing planned to subjugate mission inmates, varied themes and narratives emerge from this chequered history. Two themes, often in tension, recur across this housing survey.
Housing used as an instrument in policies designed to reshape Indigenous people's lives contrasts with different forms of resistance and adaptations to the new political and physical environments.
In missions and government settlements, the cottage was imposed as an instrument of control and assimilation, a model for state housing that endured in Queensland well into the 1970s.
In contrast, themes of resistance and self-determination are evident across the State, from self-constructed fringe camps to additions to ill-considered social housing.
By the 1980s, over 70 Aboriginal and Torres Strait Islander housing co-operatives were registered in Queensland, further evidence of collective determination to construct and maintain homes in diverse settings.
Other stories of Indigenous housing are apparent in many types of Queensland Housing Commission houses, in which Indigenous families created homes and maintained social networks in suburbia and country towns.
Systemic discrimination and neglect are also evident in planning schemes, housing designs and deficits in housing supply—a ongoing problem not limited to the last century.
The narratives explored in different periods and places raise questions about the conditions required to make Aboriginal and Torres Strait Islander homes in this century.
Places featured include Aurukun, Acacia Ridge, Birdsville, Boulia, Cairns, Cape Bedford, Cherbourg, Cloncurry, Coopers Plains, Darnley Island, Dajarra, Dunwich, Ipswich, Inala, Mapoon, Weipa, Myora, Mt Isa, Normanton, Palm Island, Torres Strait Islands, Urandangi, Woorabinda, Yarrabah and Zillmere.
(Image: The S1559 and S1560s house types. Yam Island, Torres Strait, 1980. National Archives of Australia: A8598, AK21/2/80/133)