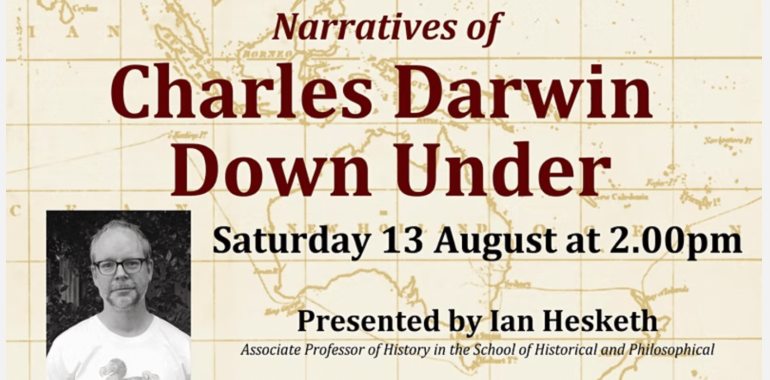 The Abbey Hall - 1-63 The Abbey Place, Caboolture

13th August 2022 - 13th August 2022

2:00 pm - 4:00 pm

$11.44 – $21.79
Charles Darwin Down Under
At Abbey Museum of Art and Archaeology.
Narratives of Charles Darwin Down Under presented by Associate Professor Ian Hesketh of Queensland University.
When Charles Darwin circumnavigated the globe on the H.M.S. Beagle (1831–1836), collecting and observing a wealth of information and specimens that formed the basis for his subsequent evolutionary theorizing, he stayed for several months in Australia, spending time in New South Wales, Tasmania, and King George Sound.
Interestingly, his time in Australia has been typically written about in one of two ways. In one version, Darwin was so exhausted after such a long voyage that he did not have the energy to appreciate Australia's unique flora and fauna and was grateful when the Beagle finally departed from Australia's shores. In a completely different version, however, not only does Darwin make a series of compelling observations, it is claimed that his key "evolutionary revelation" was made while exploring the Blue Mountains.
In this talk, Associate Professor Hesketh, will consider the merits of both of these narratives alongside Darwin's own claims about what he observed during his Australian visit and how those observations came to inform his theory of evolution.
About the presenter:
Ian Hesketh is an Associate Professor of History in the School of Historical and Philosophical Inquiry at the University of Queensland. He is the author of Victorian Jesus: J. R. Seeley, Religion, and the Cultural Significance of Anonymity (2017), The Science of History in Victorian Britain (2011), and Of Apes and Ancestors: Evolution, Christianity, and the Oxford Debate (2009). He is also the editor of the recently published Imagining the Darwinian Revolution: Historical Narratives of Evolution from the Nineteenth Century to the Present (2022).