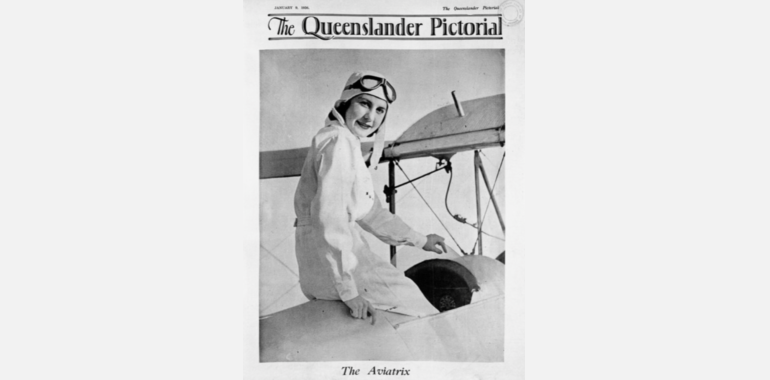 Miegunyah House Museum - 35 Jordan Terrace, Bowen Hills

18th September 2022 - 18th September 2022

1:30 pm - 4:00 pm

32522979

$15 for QWHA members; $15 for non-members
Early birds: Those magnificent ladies and their flying machines
Join Sharyn Merkley as she shares some of her research into Queensland's early female aviators at a lecture at Miegunyah House Museum on 18 September.
While we remember national heroes such as Lores Bonney and Nancy Bird Walton, Queensland had its own group of daring and ambitious women pilots. Newspapers and magazines celebrated their youth, enthusiasm, talent and glamorous fashions.
At the outbreak of the Second World War in September 1939, this hopeful age of women in aviation crashed. For many of these women, it was a turning point in their lives. Flying careers were no longer possible. Their husbands and fiancés left for combat, some never to return. Who were these women and what are their untold stories?
Sharyn Merkley, a Brisbane resident from birth, is a family historian with a life-long passion for history. As well as being involved in the archives at Miegunyah, Sharyn has done extensive research for the Genealogical Society of Queensland, including undertaking specialist research projects focused on early Queensland settlers. She has worked on the Annie Wheeler Project looking at the lives of over 2500 World War I soldiers and is currently working on an index of Battle of Waterloo veterans who settled in Australia after the conflict. Her book, Brisbane Burns: How the Great Fires of 1864 Shaped a City and its People (2017) traced the impact of the devastating fires on both the ordinary and well-known citizens of the early settlement city. Sharyn is currently writing about the early women pioneers of flying and will introduce some of her work during this lecture.
Book your ticket via our website What's On page.