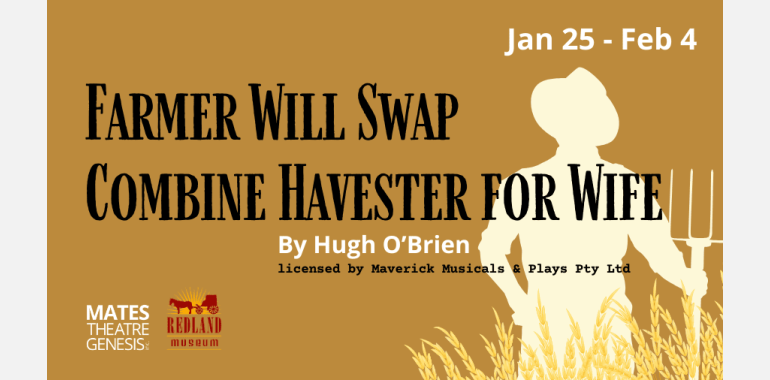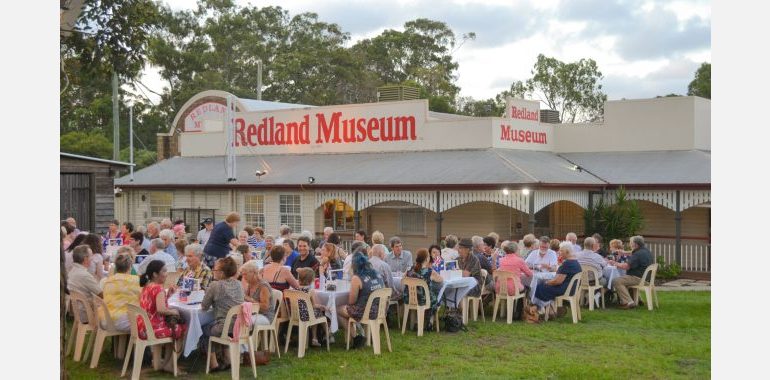 Redland Museum - 60 Smith Street, Cleveland, Redlands

25th January 2024 - 04th February 2024

6:00 pm - 4:00 pm

07 32863494

from $30.00
Farmer will Swap Combine Harvester for Wife
2024 Australia Day Play
A Whip Crackin' Aussie Comedy
Theatre Show + Dinner - Evening Performances
Theatre Show + Afternoon Tea - Matinee Performances
Presented by Redland Museum & Mates Theatre Genesis Inc.
by Hugh O'Brien Licensed by Maverick Musicals & Plays Pty Ltd
When 59-year-old bachelor farmer, Cyril Evans, runs a personal ad in 'Queensland Country Life', offering to swap his reconditioned John Deere 9750 combine harvester for a wife of "breeding age" – all hell breaks loose!
Cyril's newspaper ad starts a chain of events with both comical and serious repercussions.
TRIGGER WARNING: The production includes references to Domestic Violence.
Thursday 25th January 2024 6.00pm – 10.00pm
Friday 26th January 2024 6.00pm – 10.00pp
Saturday 27th January 2024 6.00pm – 10.00pm
Sunday 28th January 2024 1.15pm – 4.00pm
Friday 2nd February 2024 6.00pm – 10.00pm
Saturday 3rd February 2024 6.00pm – 10.00pm
Sunday 4th February 2024 1.15pm – 4.00pm