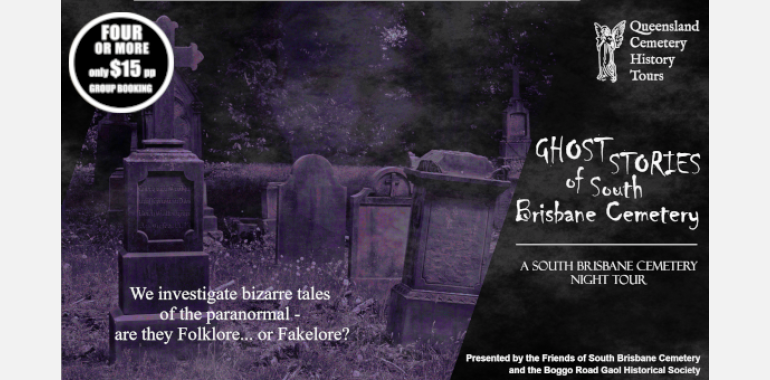 South Brisbane Cemetery - 185 Annerley Rd, Dutton Park

30th April 2023 - 30th April 2023

7:15 pm - 9:45 pm

$10 – $20
Ghost Stories of South Brisbane Cemetery
Join Friends of South Brisbane Cemetery for a nocturnal walk among the gothic headstones of this grand old Victorian-era cemetery and discover the fascinating folklore of local ghost stories.
The tales you will hear include:
The Flower Girl
The Soldier
Strange lights and shadows
The Lady in Black
The jumping ghost
The truth about some of the more dubious tales of cemetery ghosts
Your experienced guides will tell the stories from a range of perspectives.
This is a great way to safely see the cemetery at night. Your friendly guides are cemetery historian Tracey Olivieri, paranormal historian Liam Baker, and (sceptical) professional historian Chris Dawson, and they will be more than happy to chat with you and answer your questions during the tour.
(Note: This is NOT a theatrical 'ghost tour'.)
Duration of the tour is 2 – 2½ hours (tour times can vary depending on levels of customer interaction during the tour).
The Ghost Stories cemetery tour is suitable for ages 12 years and up. It contains supernatural themes.
Groups are limited to about 15 people per tour. This is a comfortable size allowing you easier movement, hearing, viewing, and opportunities to chat with the guides or ask questions.
Walking difficulty is medium. Please be aware that this tour does involve walking (slowly) up the hill in the cemetery. Please advise us of any relevant medical concerns prior to attending the tour.