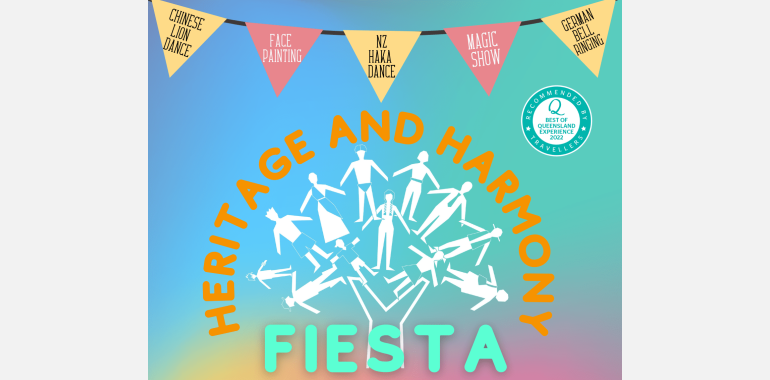 Redland Museum - 60 Smith St, Cleveland

19th March 2023 - 19th March 2023

9:00 am - 2:00 pm

Free
Heritage & Harmony Fiesta 2023
Redland Museum again hosts the Heritage & Harmony Fiesta 2023, a free community event for all the family, on Sunday 19 March 9am to 2pm.
Come and join us in celebrating the richness and diversity of multicultural life in the Redlands. Experience the fun and excitement of this exhilarating event featuring multicultural dancers, entertainers, vintage vehicles, and workshops.
Visit the Blacksmith shed and witness the transformation of iron into steel with the smithies, and learn about the process of this old unique story of forging.
Once the entertainment begins it doesn't stop for a fun filled packed program. Discover the culture of different nationalities, from the exquisite Regency dancers in their glorious costumes, Sword dancers and German folk dancing bell ringers to the Chinese traditional lion dancing and the New Zealand Maori show featuring the Maori Stick game and long poi interactive dancing. The Scottish bagpipes will create an atmosphere of mystery and awe a rich, full sound that is unlike any other.
Fairy Raine will be creating her masterpiece face painting, and Johnny the Jesters magic show will have the kids captivated. Kids can also wander the red path through the Redlands with our Heritage and Harmony trail quiz through the artifacts inside the Museum. Other activities include Thomas the Tank interactive train set, and a craft table.
See the Redlands Spinners and Weavers group demonstrate three traditional crafts: crocheting, spinning and weaving, and so much more.
Enjoy a delicious Devonshire Teas and sausage sizzles.
Don't miss this unique experience to discover and explore different cultures right here in the Redlands.
Funding has been provided by the Queensland Government.