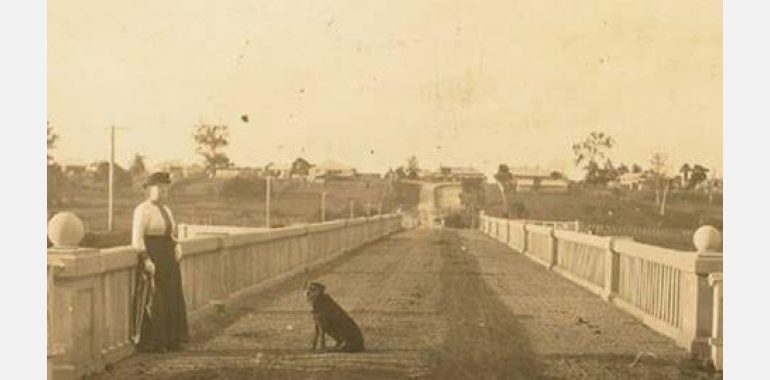 Morayfield Sport & Event Centre - 298 Morayfield Rd, Morayfield

18th May 2023 - 18th May 2023

9:00 am - 3:00 pm

Free. Bookings required.
Moreton Bay History Seminar
Explore the discovery, preservation and importance of local history at this year's Moreton Bay History Seminar.
With engaging guest speakers and stalls from the region's historical groups and societies, the all-day 2023 seminar promises to showcase the culture and heritage of Moreton Bay.
Celebrating the National Trust sponsored Australian Heritage Festival and National Archaeology Week.
Keynote presentation: Who was "Harry Pring"? by Dr Darren O'Brien
In August 1862, an Aboriginal man named "Harry Pring" was murdered with seven others (one woman and six men), in Cabulture (Caboolture). The names of those killed with Harry remain unknown to this day. Despite 160 years passing, Harry and this event in Moreton Bay's history has been largely ignored until now. Dr Darren O'Brien will present newly discovered details about Harry as well as how this information recently came to light. You will also learn about Dr O'Brien's project to commemorate Harry and those killed with him on that fateful day as well as other Aboriginal and Torres Strait Islanders in Australia. Find out how you can become involved in the project.
About Dr O'Brien: Dr O'Brien is Honorary Senior Research Fellow, School of Historical and Philosophical Inquiry, University of Queensland; Adjunct Lecturer, The University of Sydney Susan Wakil School of Nursing and Midwifery; President of the Australian Institute for Holocaust and Genocide Studies and Director of the Australian Stumbling Stones project. He has 30 years' experience in the field of Holocaust and comparative genocide studies.
Keynote presentation: Finding the life of Amity Moreton Thompson born 1824 at Moreton Bay: Researching in the 21st Century by Stephanie Ryan, State Library of Queensland
This discussion reflects an attempt to find out not only what happened in the life of the first white child born at Moreton Bay, but also what we can find out about her in the current electronic environment. Courier Mail journalists such as Ken Blanch and Bruce Wilson frequently encouraged this research from the 1980s and although attempts were made to do it, there was not the accessible electronic information needed that we have today. This session also includes a consideration of the extent to which we can trust the information uncovered and what would make it more credible and valuable.
About Stephanie Ryan: Stephanie Ryan has been the Senior Librarian in Family History at the State Library of Queensland for over 20 years. For the last 10 years she has worked more broadly across State Library's resources as a Research Librarian. Previously she was a high school teacher and teacher-librarian. She has participated in radio and television programs, has been interviewed for newspaper and magazine articles, and has presented papers at family and local history conferences. She contributes to the State Library of Queensland's blogs and writes occasional articles. She has run presentations for societies, libraries and the general public. Together with other staff she contributes to a free enquiry service of up to 1 hour per enquiry for Queenslanders, using the extensive collections of the State's main library, specialist family history indexes, website listings and digitized resources.
Lunchtime music performance – Rebecca Wright & Donald McKay
Travel on a tartan rug to the land of haggis, heather and hairy coos. With repertoire spanning the past 400 years, Scots sangster Donald McKay and Aussie songstress Rebecca Wright will take you on a magical musical journey through Scotland's history in song. Accompanied by cello, requinto guitar and bodhran (celtic drum) they will delight you with their warmth and gentle humour, and encourage you to "Gie it laldie!" (Sing along!)
Lightning talks
Learn more about local history or the research and projects currently underway across the region in these 20-minute talks from local historical societies.:
History Redcliffe – 56 years and still going – Pat Gee, History Redcliffe
Sarah Balls – a Brisbane entrepreneur who built a fish cannery on Bribie in 1908 – Lynne Hooper, Bribie Island Historical Society
We grew from the land and people of Durundur Station – Donna Grigor, Woodford Historical Society
Caboolture Family History Research Group – Sue Battersby, Caboolture Family History Research Group