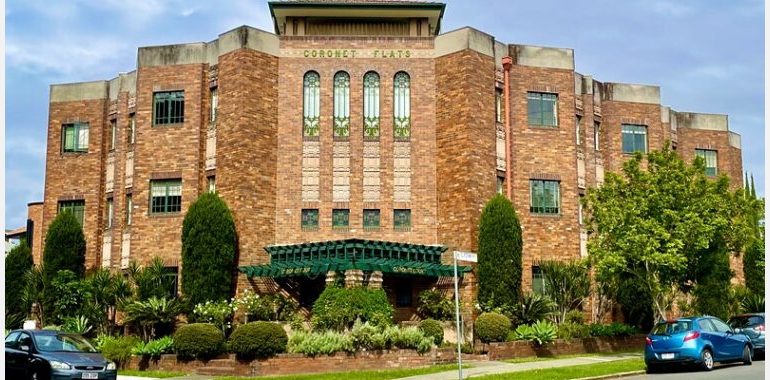 11th June 2022 - 11th June 2022

9:00 am - 11:00 am

0493 472 359

$20 – $30
New Farm Art Deco Walking Tour
New Farm & Districts Historical Society
Discover New Farm's Art Deco gems….
Meet us at the Bandstand in New Farm Park, the starting point for a specially designed 2 hour walk, exploring a selection of New Farm's Art Deco gems.
New Farm was transformed as the 1920's Art Deco design concepts swept the globe. Brisbane's leading architects responded by designing modern houses, and prestigious purpose-built, multi-level blocks of flats. The Art Deco flat was considered to be the height of modernity and sophistication.
The exterior of these constructions, incorporating the Californian bungalow aesthetic and many Mediterranean elements, are often reminiscent of the homes of Hollywood's stars of the 'silent film era'. Hercule Poirot would feel right at home.
New Farm's inter-war (1918 – 1939) Art Deco flats were compact, furnished with time-saving electrical appliances, and private garages. Built close to transport and with proximity to the city, these buildings were 'in vogue'. They attracted Brisbane's professionals and the top-end buyers with aspirations for a cosmopolitan glamorous lifestyle.
Tour leader, Santina Musumeci grew up and was educated in Brisbane's inner city. Her family moved to New Farm 40 years ago. Santina has been a member of the New Farm Historical Society since 2009.
Join us and discover New Farm and its historic, multi-cultural architectural heritage. .
Transport: Bus route 196 Destination: Merthyr and New Farm Park
For further information, contact tour leader, Santina Musumeci on 0493 472 359.