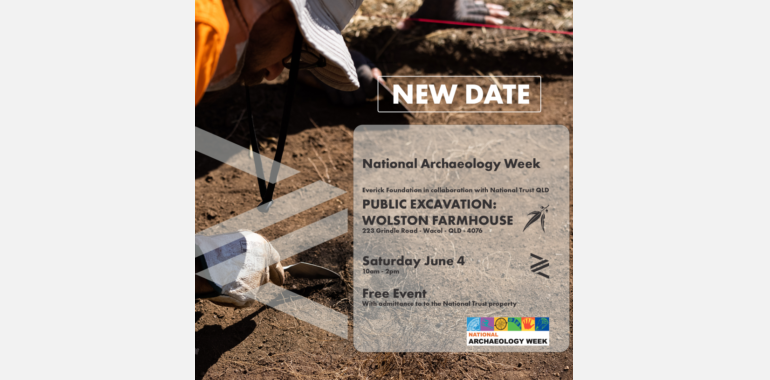 Wolston Farmhouse - 223 Grindle Road, Wacol

04th June 2022 - 04th June 2022

10:00 am - 2:00 pm
Public Archaeology at Wolston Farmhouse
A National Archaeology Week event.
Ever wanted to be an archaeologist? Well now is your chance!
Wolston Farmhouse is hosting a public excavation in its grounds, and we invite you to come and assist our archaeologists for the day.
The Everick Foundation are collaborating with the National Trust to deliver archaeological activities for the public so that you will be able to experience archaeology first hand.
Get up close and personal with Queensland heritage at Brisbane's oldest farmhouse. The house will be offering tours and has a lovely café where you can enjoy tea and scones after all your hard work.
There is a price of admission to the National Trust property but no extra cost to be involved in the archaeology activities. We look forward to seeing you there!
This is a National Archaeology Week event, previously postponed due to wet weather.