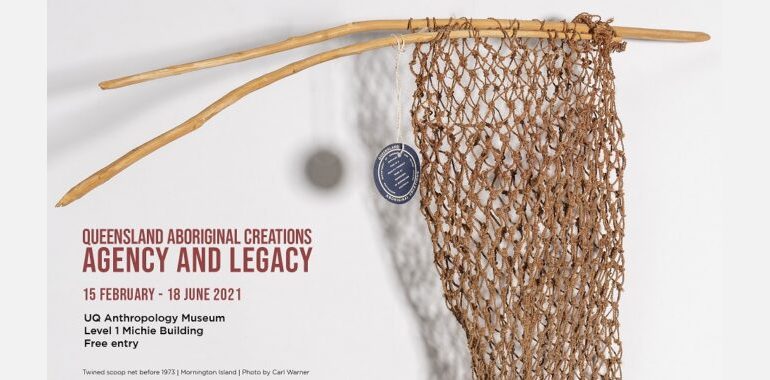 UQ Anthropology Museum - Level 1, Michie Building (9), The University of Queensland, St Lucia

15th February 2021 - 18th June 2021

11:00 am - 3:00 pm

3365 2674

free
Queensland Aboriginal Creations: Agency and Legacy
Exhibition at the UQ Anthropology Museum.
Explore an important Queensland story about a little know yet much loved curio shop called 'Queensland Aboriginal Creations'.
There is no doubt that the story of Queensland Aboriginal Creations (QAC) is a provocative one. As the marketing arm of the Department of Native Affairs, QAC influenced the production, promotion and reception of Aboriginal and Torres Strait Islander art and craft in Queensland from 1959 (and arguably) through until today.
Despite decades of government control, Aboriginal and Torres Strait Islander artists were radically creative, finding innovative forms of expression and developing an industry. Featuring works from the Torres Strait Islands, Kowanyama, Pormpuraaw, Mornington Island, Hope Vale, Cairns, Yarrabah, Cherbourg and Brisbane.
The UQ Anthropology Museum is open Monday – Friday (11.00 am – 3.00 pm) except Public Holidays.
Image: Photographer Carl Warner. Queensland Aboriginal Creations tag attached to Mornington Island scoop net from UQ Anthropology Museum collection.