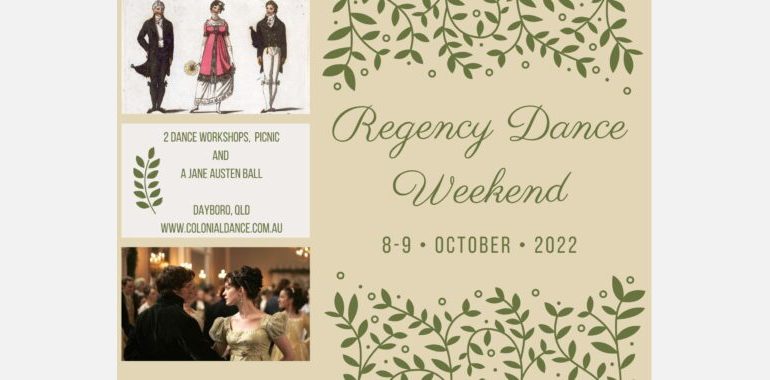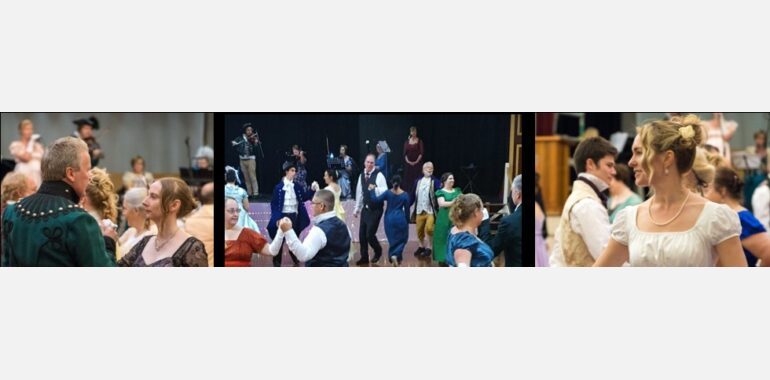 Dayboro Community Hall - 6 Bradley St, Dayboro

08th October 2022 - 09th October 2022

Weekend ticket $70 (includes Ball + 2 workshops); Individual tickets: The Jane Austen Ball $55, Workshops $12 each
Regency Dance Weekend
Phillip's Dog presents a weekend of English country and Regency dancing in the village of Dayboro.
Join respected dance teachers, Kit and Heather Clarke as they lead two dance workshops and a Regency Ball celebrating Australia's cultural heritage.
Workshop One: A Scottish Romance
Saturday 8 October, 1.30pm-3pm
The Heart of Mid-lothian, a collection of Sir Walter Scott dances – all will be taught and called, ensuring even the most retiring dancers will feel confident. Recordings by Màrtainn Skene (cello), Alastair Mcculloch (fiddle) and Andrew Forbes (piano).
The Ball: A celebration of Jane Austen and Australian Regency dances
Saturday 8 October, 6pm–10.30pm
Imagine yourself transported to the world of Jane Austen, to a splendid ballroom alight with elegant ladies and handsome gentlemen. Enjoy a light supper and experience the dances popular in Jane's day – the very same dances that were enjoyed in early colonial Australia. Live music by Phillip's Dog, the only ensemble in the world specialising in early Australian colonial dance music.
Workshop Two: Elephants Stairs
Sunday 9 October, 10am-12pm
Elephants Stairs is collection of English country dances that were first published in the late 17th century and early 18th century, reinterpreted for modern use by Andrew Shaw. Dances include The King's Maggot, Jolly Company, and Harlequin in the Mud. From the elegant through to the lively, all these dances will delight. Recorded music by Persons of Quality, one the world's leading performers in this genre.