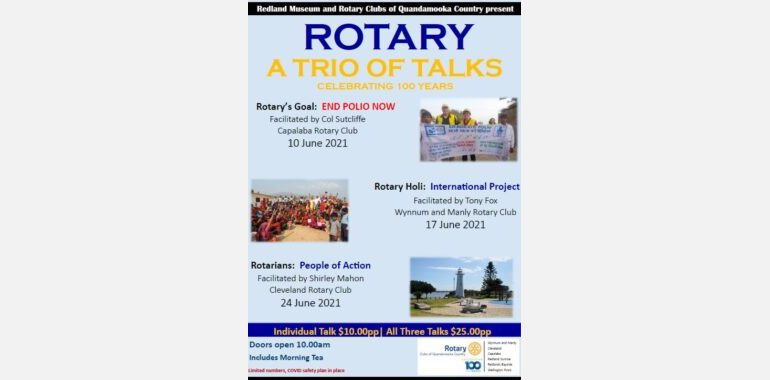 Redland Museum - 60 Smith Street, Cleveland

10th June 2021 - 24th June 2021

10:00 am - 12:00 pm

07 3286 3494

$10 - $25
Rotary – Celebrating 100 Years – Trio of Talks
Hosted by Redland Museum.
Rotary in Australia and New Zealand are celebrating 100 years of service.  Redland Museum will host a Trio of Talks by Rotarians from Clubs of Quandamooka Country.
Thursday 10th June
Rotary's Goal: END POLIO NOW
Polio, or poliomyelitis, is a paralyzing and potentially deadly infectious disease that most commonly affects children under the age of 5. Rotary has been working to eradicate polio for more than 35 years and has reduced the disease by 99.9%. The goal of ridding the world of this disease is closer than ever. The story of this goal will be shared.
Thursday 17th June
Rotary Holi – International Projects
Holi symbolizes a new beginning, an opportunity for rebirth, a positive change that enriches our lives and the lives of people around us. Share with members of the Rotary Club of Wynnum and Manly the many International Projects they have undertaken. Learn how they have raised money and what and where they have carried out International Projects.
Thursday 24th June
Rotarians – People of Action
The efforts of Rotarians have resulted in the establishment of Redland Museum, The Rotary Lodge accommodating Redlanders and others who need temporary or emergency accommodation at Redlands Hospital, a variety of local community, youth & business programs, and activities beyond the Redlands. Rotarians will share with you about being People of Action.
Cost is $10 pp per talk or $25 to attend all 3 talks
Click Here for more information or to book your tickets today!