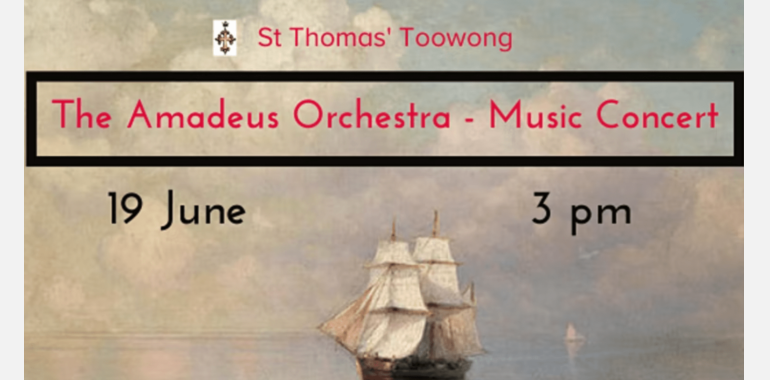 St Thomas' Anglican Church - 69 High St, Toowong

19th June 2022 - 19th June 2022

3:00 pm - 4:00 pm
The Amadeus Orchestra Music Concert
By St Thomas' Anglican Church Toowong.
The Amadeus Orchestra music concert – an afternoon of classical music by Mozart, Beethoven, Camille Saint-Saëns and more.
Conductor: Neil Flottmann.
Classical music by Ludwig van Beethoven, Camille Saint-Saëns, Wolfgang Amadeus Mozart, Der Vogelfänger bin ich ja (Papageno's aria) from The Magic Flute and more.
Cheese and wine served at the interval.
Tickets:
Adults are $30 ($27.27 + GST) – book and pay for tickets online.
Concession are $25; Children under 12 years are $15 – both ticket types are pay at door only.
Please arrive before 3pm.