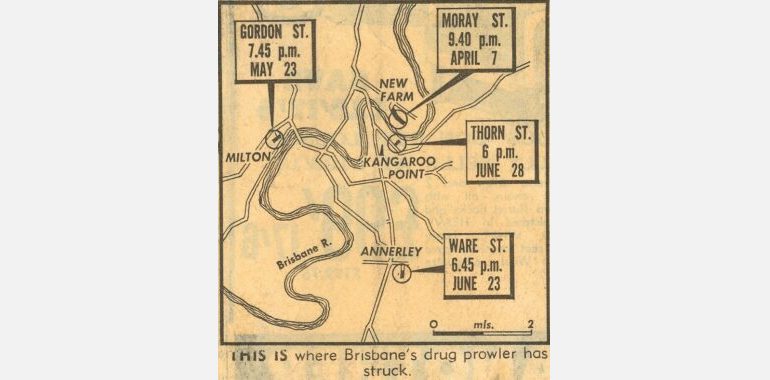 Queensland Police Headquarters - 200 Roma Street, Brisbane

27th June 2021 - 27th June 2021

11:00 am - 12:30 pm

0733646432

Free
The Ether Man – Police scour Brisbane for clues in 1966
Part of the Queensland Police Museum's Sunday Lecture Series.
The signature of a predator, the dedication of police officers and the lucky break leading to the capture of the Ether Man will all be revealed in June's Queensland Police Museum Sunday Lecture.
Between April and September 1966 five women were attacked by a man who used either Ether or Chloroform to subdue his victims before he raped them. The attacks occurred in Brisbane's north and south. The Curator of the Queensland Police Museum, Lisa Jones will outline the police investigation and the lengths to which officers went to catch the attacker.
The investigation was taken up with earnest by police who tried to find the man and his source of ether before the next woman was attacked. The attacks shocked Brisbane and the police were flooded with calls about possible sightings of the attacker and from people who thought they smelt ether on street corners and in taxis.
This lecture is not suitable for young children.
This one-and-a-half-hour presentation will start at 11am on Sunday, June 27 and will be both informative and educational.
The Museum opens its doors to the public on the last Sunday of each month from 10am to 3pm from February to November in addition to the standard Monday to Thursday 9am to 4pm opening hours. Monthly Sunday openings feature guest speakers from across the historical and crime-solving spectrums.
PLEASE NOTE: The Police Museum will open Sunday, June 27 from 10am to 3pm, and is located on the ground floor of Police Headquarters, 200 Roma Street, Brisbane.