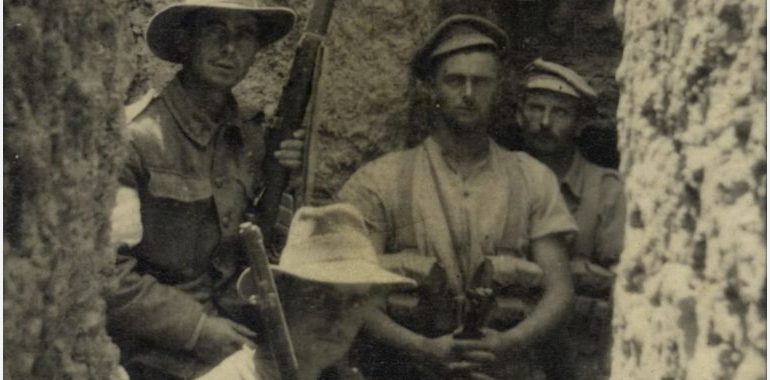 Anzac Square Memorial Galleries - 285 Ann St, Brisbane

23rd April 2023 - 25th April 2023

10:30 am - 2:30 pm

Free
The Gallipoli campaign
Join Anzac Square Memorial Galleries for a free talk exploring stories from the Gallipoli campaign.
The Gallipoli campaign was a plan to knock the Ottomans out of the war, but it quickly turned into a stalemate that would continue for eight long months. The Australian and New Zealand troops committed to this action proved themselves to have a great capacity for courage under fire and endurance in dreadful conditions, displaying qualities of stoicism, good humour, self-sacrifice, and mateship.
Though they suffered heavy losses, and the campaign would fail to achieve its objectives, the actions of the Australian and New Zealand troops during this campaign began the ANZAC legend and saw the world stand up and take notice.
This free talk will draw on stories, diaries, letters, and photographs from State Library of Queensland's military collection, including:
Maurice Delpratt, a soldier of the 5th Light Horse Regiment who fought at Gallipoli before spending three-and-a-half years in a prisoner-of-war camp at Hadji-Kiri, Turkey.
Constance Keys, who was one of the first four Queensland nurses to embark for Egypt in September 1914 and spend five years nursing wounded soldiers.
Joseph Cecil Thompson, a 22-year-old from Childers, who served with the 9th Battalion at Gallipoli as a stretcher bearer and member of the battalion band.
After the talk, visitors can stay to explore the Memorial Galleries – embarking on an interactive journey from the First World War to today, before taking time to reflect on the remarkable stories of bravery and sacrifice in the tranquil parklands.
Sunday 23 April, 10.30am – 11.30am
Tuesday 25 April, 1.30pm – 2.30pm