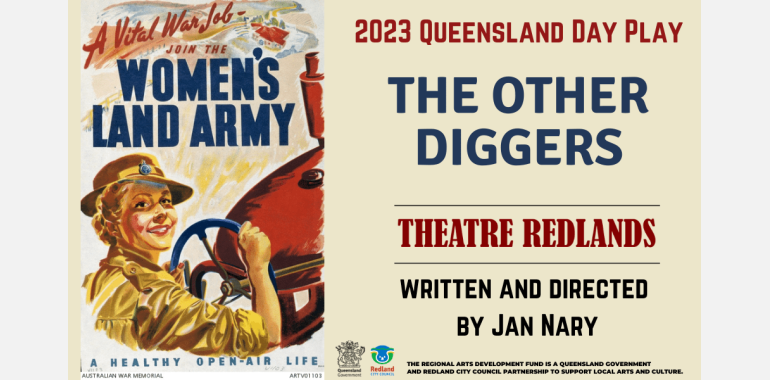 Redland Museum - 60 Smith St, Cleveland

02nd June 2023 - 11th June 2023

From $39
The Other Diggers
The Other Diggers is a theatre tribute to the Australian Women's Land Army, the women who worked the farms and fed the nation during the dark years of World War Two. Hardworking, game and resolute – this homage is a small part of their story.
1942. Australia was at war. Singapore had fallen, Darwin, Katherine and Sydney had been attacked and most able-bodied men had been drawn into the armed forces. Which left no-one to work the land, to produce food and fabric for the population, our forces overseas, allied forces in Australia and England's embattled population.
The call went out for women to join the new Australian Women's Land Army. And the women responded – women whose experience was in offices, shops, homes, restaurants and factories threw themselves into rural work with a determination that was breathtaking – digging, planting, harvesting, milking, slaughtering, butchering, tractor driving, baling, shearing and crating… they did the lot. And after the war they began to fade from the history books…
This play, The Other Diggers, is a humble acknowledgement of what they achieved.
Ticket includes a delicious lunch or evening meal, the show and entry into the Museum to browse through the fascinating displays.