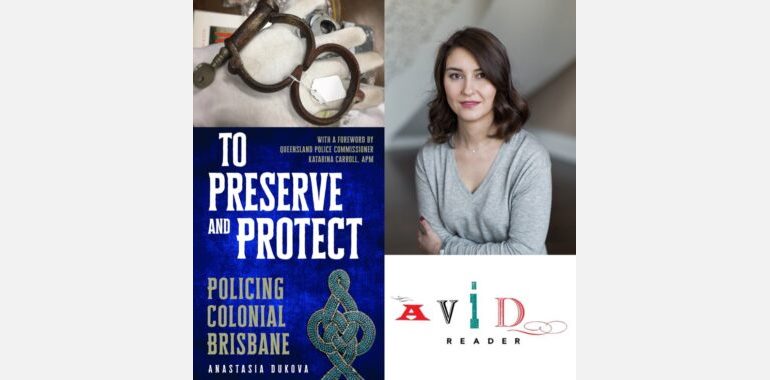 Avid Reader Bookshop - 193 Boundary Street, West End

18th June 2021 - 18th June 2021

6:00 pm - 7:30 pm

07 3846 3422

Free
To Preserve and Protect – Dr Anastasia Dukova
In store event at the Avid Reader Bookshop.
Join Dr Anastasia Dukova at the Avid Reader Bookshop, West End, as she discusses her latest publication To Preserve and Protect: Policing Colonial Brisbane.
With limited seating available, prompt registration is recommended to hear historian Anastasia detail early Australian policing with its roots on the streets of Dublin and London, where many of Australia's first law and order enforcers hailed from.
The book exposes political power abuse, corruption, mismanagement, professional burnout and gendered justice, issues which continue to challenge police forces.  Intrigued by this connection, Dr Dukova has recreated the lives of colonial police officers and criminals in her adopted home city of Brisbane. Through exploring their personal stories, Dukova highlights how biography and history are inextricably linked and reveals the differences between metropolitan aspirations and colonial reality.
Registration is required for instore and online guests: AvidReaderBookshop/BookEvent/PreserveandProtect
Info for instore guests:
Bar opens at 5.30pm with drinks available for purchase prior to and after the event
Arrive by 6.00pm for a 6.30pm start
Limited to eighty seats
After booking an instore ticket your name will be on the door at Avid Reader.  Avid Reader is required to use the Check In Qld App when signing in patrons.
Info for online guests – we email the Zoom event link to you after 4.00pm AEST on the day of the event. If you have not received this information prior to the event please check your SPAM folder. Customers using BigPond email addresses have informed us that they often do not receive our emails. Please use an alternative address or ensure that you have contacted us directly before 6.00pm AEST on the day of the event to request the link.