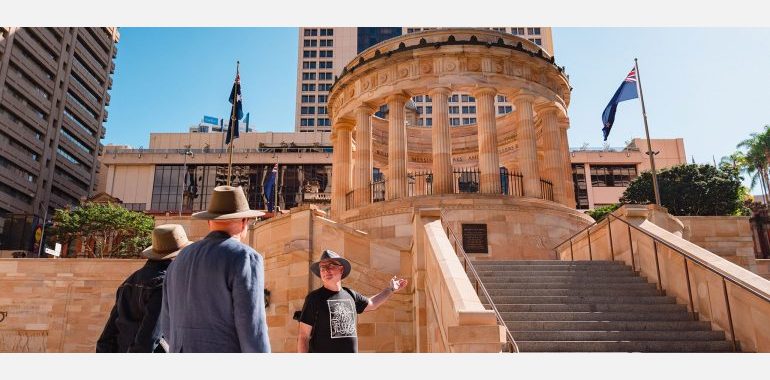 Tour begins on Level 3 of City Hall - King George Square, Brisbane

11th June 2023 - 11th June 2023

10:30 am - 12:00 pm

Adult $25 | Concession $20
Walking in Wartime
Step back in time to explore Brisbane in the Second World War.
Be transported to the age of jazz music, Yankee soldiers and the infamous Battle of Brisbane in Walking in Wartime, a fully immersive tour that will lead you around the city and into the past.
Starting in the Museum of Brisbane's City Hall location, uncover the important role the building played during the Second World War, before heading off to uncover locations in our city that reveal compelling stories of wartime experience.
Stop at the picturesque Albert Street Uniting Church to hear about Brisbane's war brides, learn of the tensions between Australian and US troops which caused the infamous 'Battle of Brisbane' and uncover the secret stories of the code breakers who helped win the war.
Finish your tour in front of the MacArthur Museum, the former headquarters of General MacArthur.
Tour begins on Level 3 of City Hall.
Duration of tour: 90mins
Distance: 2km
Capacity: Maximum 12 visitors
Difficulty: This tour is suitable for most fitness levels and abilities.