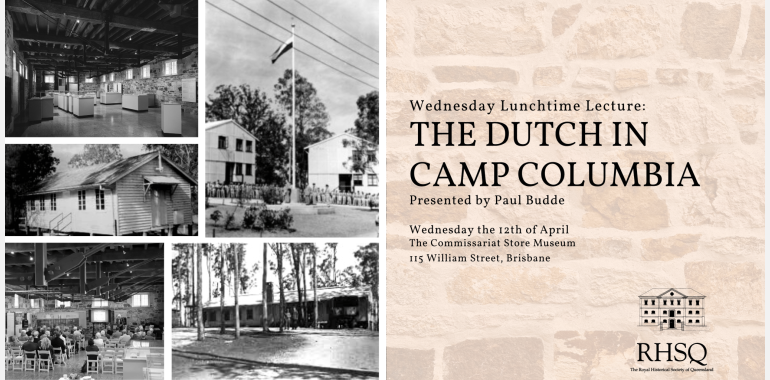 Wednesday Lunchtime Lecture: The Dutch in Camp Columbia
On Wednesday the 12th of April, as a part of the Royal Historical Society of Queensland's Wednesday Lunchtime Lecture series, Paul Budde will deliver a talk on "The Dutch in Camp Columbia."
Paul, the acting president of the Dutch Australian Cultural Centre, will speak on the fascinating history of the Camp Colombia site. The presentation will cover the history of the site including:
A border police station was established in 1842, starting a long history of law enforcement in Queensland on this site.
In 1942 the Sixth US Army headquarters were formed and stationed on this site. They named it "Camp Columbia". Here they established a camp with an extensive infrastructure, including an officers' school, hospitals, sewerage plants and housing for its personnel. This was the main Allied Staging Camp for the war in the South Pacific during WWII.
In 1944 the site was taken over by the Netherlands East Indies Government-in-Exile. This was the first time that a foreign government was hosted on Australian soil. There was close co-operation between the Australian and Dutch transport squadrons. They looked after all transport, between Australia and the Dutch East Indies, from food and medicines to ex-prisoners from Japanese internment camps. The last Dutch transport plane left Archerfield airport in September 1947.
After World War II, parts of Camp Columbia were used by the Australian military and then served as a migrant reception and training centre. Other parts are now occupied by the Brisbane Correctional Centre.
The site of the Camp earmarked for the Heritage Park is the publicly accessible Pooh Corner Environmental Reserve.