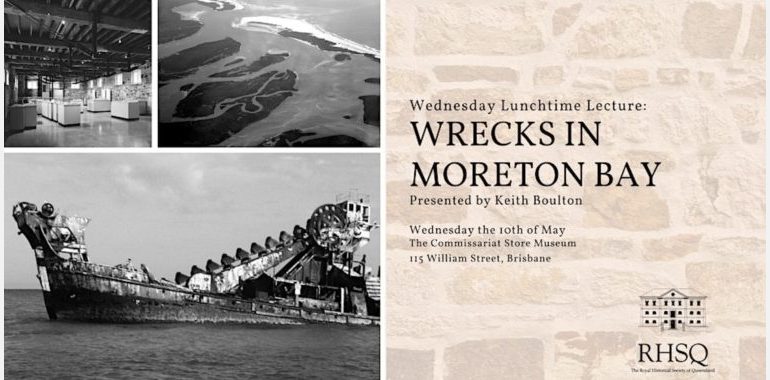 Wednesday Lunchtime Lecture: Wrecks in Moreton Bay
On Wednesday the 10th of May, as part of the Royal Historical Society of Queensland's Wednesday Lunchtime Lecture Series, Keith Boulton will give a presentation on the topic "Wrecks in Moreton Bay."
There are approximately 122 recorded wrecks in the Moreton Bay area and 76 in the Brisbane River.
At present, for Moreton Bay a total of 70 Wrecks remain and three in the Brisbane River.
This presentation will take a journey to unwrap the very interesting history of 11 of these vessels plus two from the Bribie Area.
Some of them sank due to mishaps, but the majority have been hulked or scuttled.
It also includes many interesting and historical photos that have been gathered to explain their final locations, operational history, ownership, wartime involvement, and name changes.
About the Presenter:
Keith Boulton is an Honorary Life Member and a volunteer of the Queensland Maritime Museum. He is one of the "Monday Crew" and is involved with Guiding, Events, and Editor of the two QMM publications.
Keith is a retired Health and Safety and Quality Assurance Lead auditor. While initially starting his employment as a mechanic with Hornibrooks in Brisbane, his work experience has included the Automotive, Transport, Mining, Construction, Marine, and Petrochemical industries.
From 1967 to 1970, his marine experience involved vessels at Heron Island and later on the Brisbane River and Moreton Bay with the Sand and Gravel Industry at South Brisbane.
He spent 26 years in many roles in the lubricant business with Castrol and later BP. He has also worked overseas in Canada, England, the South Pacific, Vietnam, and Thailand.
He is an avid amateur historian with a keen interest in all things marine.