About Us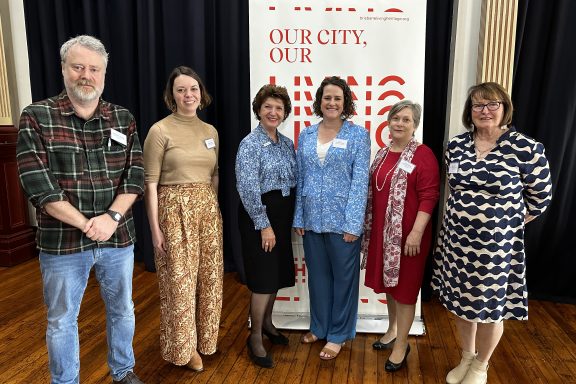 We are the heart of Brisbane's cultural heritage & social history
Brisbane Living Heritage (BLH) is the heart of Brisbane's cultural heritage and social history, advocating and encouraging curiosity in our city's history.
We share the incredible stories of Brisbane's rich heritage and inspire residents and visitors to enjoy our incredible and unique stories.
We are your guide to Brisbane's cultural heritage, with more than 90 member organisations — museums, galleries, heritage sites, historic houses & gardens and historical societies.
We invite you to discover the heritage of our great city — the stories, spaces, and faces that paint the culturally-rich picture of Brisbane.
Annual Report
Download our annual report for information about activities, staff and board members.
Membership
BLH welcomes new members and offers three different categories of membership options for organisations and individuals.
A BLH membership helps in the preservation and promotion of Brisbane's historical past. Find out more.
Our history
Established in 2001, Brisbane Living Heritage (BLH) was formed out of a Brisbane City Council initiative. The initial spark of an idea was to connect Brisbane's small museums and heritage places within a larger network to help them with promotion and raise awareness of their valuable work. It was decided that this network or alliance would be based on approved membership to Brisbane Living Heritage.
Today there are more than 90 member organisations in BLH comprising museums, galleries, heritage sites, historic houses and gardens and historical societies.
BLH is proudly supported by Brisbane City Council.
Our team
The Brisbane Living Heritage Board is responsible for the corporate governance and strategic direction of Brisbane Living Heritage Ltd.
The Board meet monthly on a volunteer basis and are responsible for ensuring compliance under the Corporations Act 2001 and all other applicable laws are upheld.
All Board members are representatives of Institutional members.
BLH has three paid part-time employees: Membership Manager and two people sharing the Marketing Manager role.
Phoebe Meredith
Chair
Brisbane Powerhouse
Beverley Smith
Treasurer
Army Museum South Queensland
Alannah McFadzean
Director
The Old Museum