How to Promote your Creative Project – workshop notes
In early October, Melissa Western from the Northlakes Cultural Activation Team, and the Moreton Bay Region Libraries (Northlakes) put on a fantastic workshop called, "Promoting Your Creative Project". Thirty creatives were welcomed to learn the basics of writing, graphic design, and marketing.
The three speakers were Dr Louise Mayhew, Sean Dowling and Kirsten Sealey, who each gave a short presentation about their chosen subjects – Writing Blurbs; Effective Graphic Design in Advertising; Marketing and Social Media Effectiveness. These were followed by individual group work on each topic, which was an invaluable way of communicating our own thoughts and ideas in a targeted way.
Writing Blurbs
Dr Mayhew discussed how 'creatives' often find writing about their work to be difficult.  She suggested more structure with two key elements, when writing a blurb about what we do: Concrete and Sparkle.
Concrete information relates to the key facts about the event and cover things like:  Title  Date  Venue / Place  Times  Cost
Sparkle is the sizzle that sells the steak! It reflects the things that add joy – the adjectives and personality of the creations and event. We were reminded to always balance the excitement of our creations with credible sources of information.
When writing about your project, write simply, humbly and honestly with words you can imagine coming out of your mouth.
Read your writing aloud and double check for long, confusing or grammatically awkward sentences.
Develop a few texts with different lengths, for different platforms, or for different audiences. Experiment with new ways of writing about your work. Read others' blurbs, analysing for strengths and weaknesses.
Marketing your project: Planning
There are several questions you can consider about your event or project that will get you planning how to market to your target audience…
What are you selling?
What makes your project different?
What are your competitors doing and how are you doing things differently/better/not so well?
What is your Call to Action – what should people DO when they see your marketing?
Consider your principal strategies – why are you doing this event / project?
Marketing your project: Advertising
People need to see your event advertised several times before they decide to act. It's your job to find opportunities to contact your audience. Where does your audience hang out and how can you reach them? More importantly, how can they find you?
Examples of advertising & Marketing include:
Newsletter / email
Website
Word of Mouth
Cross-promotion and Partnerships
Facebook Events
Facebook Ads
Letterbox drops
Other Social Media platforms, including video
Google ads, Google posts.
Social media community groups
Event platforms (Eventbrite, Humanitix)
Press Release & Media Pack
Local event calendars e.g. Council
Put yourself in your audience's shoes – what do they want and need from experiencing your creative project? What is their motivation for paying money for your art? What do YOU look for when you're seeking a cultural event? The answers to these questions will inform your writing and your imagery.
Creative Promotion (ads, posters, flyers, social media posts)
Keep it simple and attention-grabbing. Don't give them the whole story… just enough to get them wanting more, and then point them in the right direction to find out.
Graphic design should capture the imagination and draw them in to find out more.
All marketing activities are sharpened with data. In the lead up to, and after your project, always collect information from your audience that can assist you in understand what the most effective channel was for you. This could be as simple as asking people how they heard about your event. Make sure you set up Google Analytics between your Website, Google and social media for a more accurate look at your website traffic and use the information to get the most bang for your buck next time.
post.thumbnail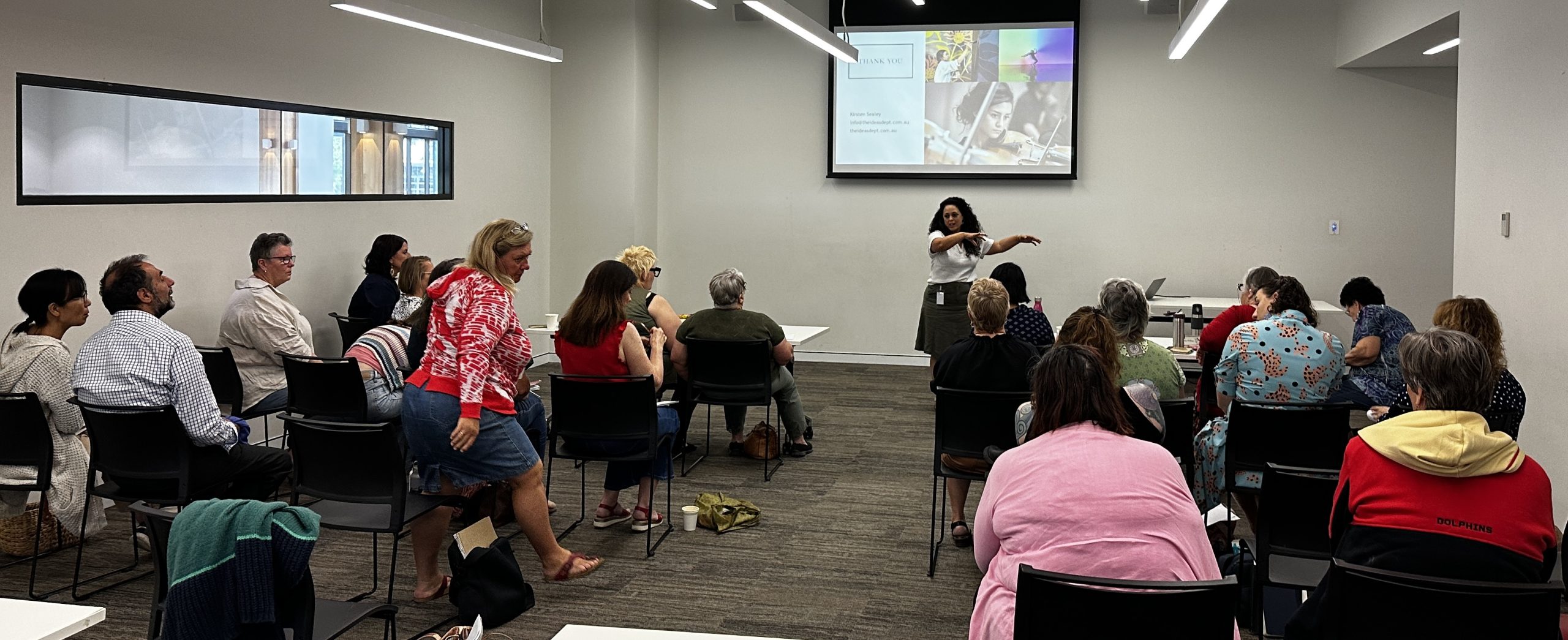 post.action