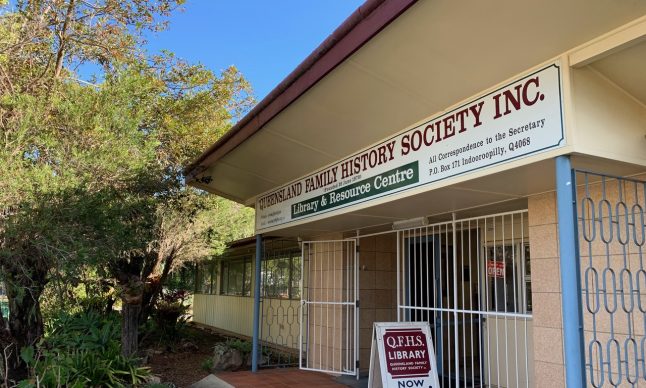 46 Delaware Street, Chermside QLD, Australia

Tue, Wed, Thur, Sat 10am – 3pm; Mon (2nd & 3rd of month) 6pm – 9pm

07 3355 3369
Queensland Family History Society
Come and research Queensland history with us! We can help you research your family, your town and other interests. The links to your past are here.
This friendly and supportive Society has an extensive collection of print, microform, and digitised records. It hosts educational seminars, workshops and Society meetings, both on site and online.
The society's collective expertise and knowledge of family history and genealogy is here to help you.
The Library and Resource Centre is free for financial members. Non-members may use our library. We charge a fee of $8.50 per hour or $17 per day to allow access to all our collections. Should you wish to join the Society within two weeks of your visit, this fee will be deducted from your first year's subscription.
You must let us know you are coming by emailing  visit@qfhs.org.au and advising:
the day of your visit
your name
member number, and
if you will use a computer or microform reader during your visit.
Please note: the QFHS Library and Resource Centre 58 Bellevue Avenue Gaythorne is now closed, effective Tuesday 18 October 2022.
We will re-open at our new premises in February 2023:
Family History Research Centre
46 Delaware St
Chermside