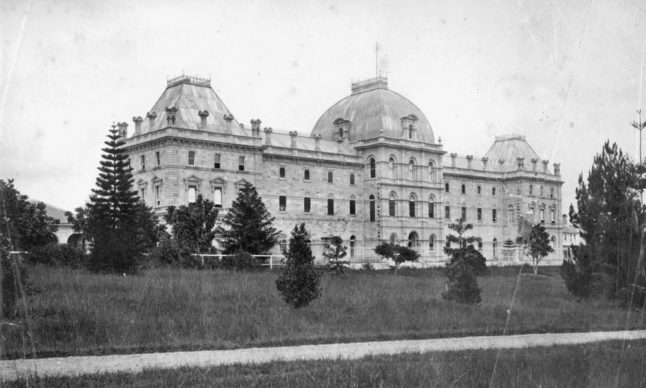 2A George St, Brisbane City QLD 4000, Australia

Tours Mon – Fri 1pm, 2pm, 3pm, 4pm when Parliament is not sitting; 1 tour on sitting days 2pm

07 3553 6000
Queensland Parliament House
Visit Parliament House and take a free guided tour of one of Queensland's most beautiful and historically significant buildings.
A visit to Queensland Parliament allows you to experience the grandeur of Queensland's first and foremost public building.
Built in 1868, the building is still home to Australia's only unicameral state Parliament.
The interior has been beautifully restored and showcases Queensland's history as shaped by the governments and laws made in Parliament.
The rooms of Parliament House are ornately decorated and the principal rooms retain much of their original, purpose-made furniture.
On sitting days, it is possible to observe the Parliament in session from the public gallery.
Free guided tours operate on weekdays – Please note, bookings are not required for general public tours as the availability of these tours is subject to change based on Parliamentary proceedings.
Strangers' Dining Room is one of the most popular rooms in Parliament House for private events. Originally known as the Members Dining Room, this heritage room was exclusively used by male Members until the 1960s.
In 1966 Mrs Ellen 'Vi' Jordan was the second woman elected to the Queensland Parliament and successfully asserted her right to dine in the Members Dining Room.
Shortly after, in the 1970s, the dining room was opened for Members and their guests and renamed – the term 'stranger' refers to any person on the parliamentary precinct who is not a Member of Parliament.
The heritage room retains much of its original charm, with early Australian cedar yoke back chairs and interior decorations reflected the late Victorian era of its period of construction, circa the 1890s.
From 2006 onwards, regular High Tea events have been held in the Strangers' Dining Room for members of the public to attend.
It is also the location of Strangers' Restaurant which is open to the public for lunch on certain days.