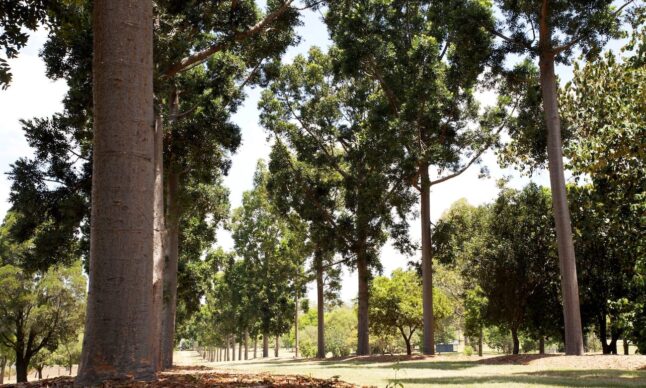 The Sherwood Arboretum was opened in 1925 on World Forestry Day with a planting of 72 Queensland Kauri (Agathis robusta) pines along a central promenade, Sir Matthew Nathan Avenue, named in honour of the Queensland Governor at the time.
The 15 hectare site was established to apply scientific methods to the development of forestry and timber production following the First World War.
The Arboretum contains approximately 1100 trees, representing approximately 250 species. The area features a number of botanical collections including riverine, dry rainforest, dry sclerophyll, fig avenue, freshwater wetlands, and the main attraction being the grand avenue of 72 pines.
In 1946 a number of land parcels and some connecting unformed roads were acquired adjacent to the Arboretum. This addition is now named the John Herbert Memorial Vista, commemorating the State Member for Sherwood 1956 – 1978, who was an active member of the local community and had a long association with the National Trust of Queensland.
The John Herbert Memorial Vista is managed as an integral part of the Arboretum's natural biosystem.
For more details on Sherwood Arboretum, including events and bookings, visit the Brisbane City Council website; or browse through more than 90 other BLHN Places to Visit.
Beside 17 Dundalli St, (towards Webster Rd) West Chermside
Tue 10am – 2pm; first Sat of each month 10am – 3pm